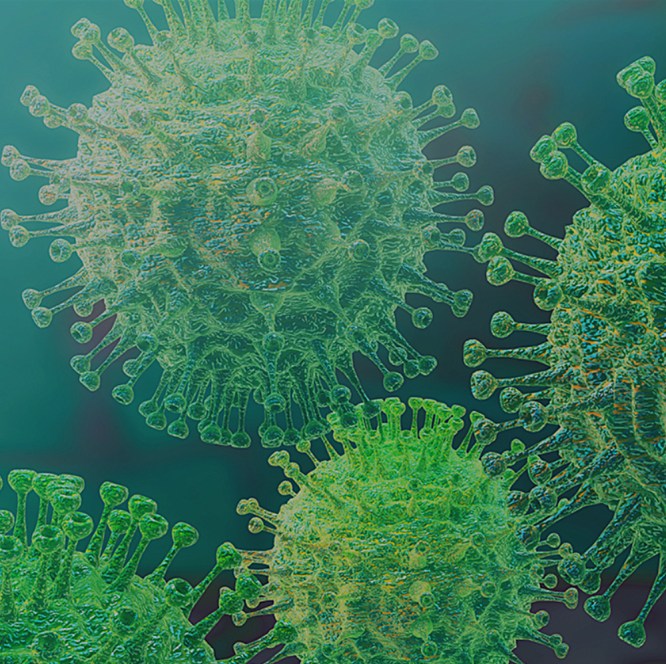 YOUR QUESTIONS ANSWERED:
HOW MSD IS RESPONDING TO THE GLOBAL PANDEMIC, COVID-19
The COVID-19 pandemic is an unrivalled scientific and global health challenge. As a company with a long legacy of research in infectious diseases, we have a responsibility to help.
We've been committed to developing an effective response to the COVID-19 pandemic since it was first recognized. We know that success will require global collaboration among countries and companies and more. That's why we've entered a partnership to support the manufacturing and supply of Johnson & Johnson's COVID-19 vaccine and are advancing our investigational antiviral COVID-19 therapy.
MSD remains focused on protecting the safety of its employees and their families, assuring the supply and manufacture of medicines and vaccines for our patients and populations, contributing our scientific expertise to the development of antiviral approaches, and supporting our healthcare providers and the communities in which they serve.
Thanks to our teams and colleagues, our manufacturing plants and clinical supply sites remain open around the world and, we are taking steps to make sure that continues to be the case.
We know many of you have questions and we want to answer them as best as we can. To help you navigate your questions, we're providing the list of FAQs below:
Does MSD have medicines or vaccines to treat COVID-19?

We know that success will require global collaboration among countries and companies and more. That's why we've entered a partnership to support the manufacturing and supply of Johnson & Johnson's COVID-19 vaccine and are advancing our investigational antiviral COVID-19 therapy.

The remarkable pace of the development of SARS-CoV-2/COVID-19 vaccines and medicines is good news for our industry and for society — and the direct result of sustained investments in research and development by the research-based pharmaceutical industry, smaller biotechnology companies, academia and governments. We applaud these efforts – which must continue. It's important that we now collectively support authorized vaccination programmes while continuing to employ public health measures to reduce the burden of COVID-19.

MSD remains focused on three critical pandemic priorities: protecting the health and safety of our employees and their families, sustaining the supply of our medicines and vaccines to our patients and customers, and mobilising our scientific expertise and experience to contribute to the global response to the pandemic.
---
How is COVID-19 impacting MSD clinical trials?

Driven by our steadfast commitment to patients, we are making every effort to ensure that patients in affected areas who are enrolled in clinical trials can continue their treatment and receive appropriate care and monitoring.

Conditions are fluid and evolving but as local conditions allow, we are enrolling patients in ongoing studies, and we are starting new studies.
---
How is MSD protecting employees and Health Care Professionals?

We are committed to supporting our health care providers and our communities both as a global organisation as well as within the UK, and we continue to consider other possible ways to extend our support. Below are a few examples of how we are trying to provide support where we can:

Global support:

MSD has committed an additional $10 Million to COVID-19 Relief Efforts – totalling over $30 million in support to date.

The MSD Foundation has announced that the company will make an additional commitment of $10 million in support of COVID-19 relief efforts to help address health disparities and inequality among patients and communities. MSD is making this new commitment in solidarity and support of #GivingTuesdayNow, a new global day of giving and unity as an emergency response to COVID-19. With this commitment, MSD has contributed or committed more than $30 million in support of global, national and local COVID-19 relief efforts.

Teaming up to advance COVID-19 research:

In addition to the efforts outlined earlier, our company has partnered with the Bill & Melinda Gates Foundation and a consortium of life-sciences companies to accelerate the development, manufacture and delivery of vaccines, diagnostics and treatments for COVID-19. "We know that the private sector is where the technical skills and know-how regarding discovery, clinical trials and commercialisation sit," says Mark Suzman, chief executive officer of the Bill & Melinda Gates Foundation. "We look to harness that knowledge and experience — combining it where possible — to connect with national regulators and the World Health Organization to see if we can help flatten the curve of this epidemic and make sure the results reach everyone around the world.

Helping mothers in need:

Through MSD for Mothers, our global initiative to help end preventable maternal deaths, we are committing an additional $3 million to help health systems better meet the needs of pregnant women before, during and following delivery while tackling COVID-19. MSD for Mothers will be directing investments to efforts in COVID-impacted countries to help address maternal health challenges that are arising because of the pandemic.

Voluntary licensing

While pursuing cutting edge research on the potential role of antiviral medicines in the management of the pandemic, we have put in place voluntary licenses with generic manufacturers in India to enable them to manufacture and supply to more than 100 low- and middle-income countries around the world – as part of our commitment to global access to treatments and vaccines in the face of the pandemic.  We have also made a licence agreement with the Medicines Patent Pool.

UK & Ireland support:

Launching the COVID-19 Grants programme

In July 2020 we announced the launch of the MSD in the UK Grants programme. It was designed to help UK based projects support those most vulnerable or impacted from the negative effects of the COVID-19 pandemic and support patients and families who are vulnerable to infection. Learn more about how it made an impact here.

Lending testing equipment to aid the NHS

MSD is one of several research and development companies that has loaned its automated liquid handling platform (the Tecan EVO 150) from its Discovery Research facilities in London to the UK government to support critical COVID-19 lab testing efforts.

Donating PPE and fitting equipment to organisations in the North East to support aid efforts around COVID-19

At the start of the pandemic our company was not only focused on continuing to manufacture medicines during this unprecedented time but has also enabled several donations of PPE, other essential equipment, and volunteer support to aid efforts around COVID-19 of organisations in the North East.

These donations have included the donation of safety glasses to the Newcastle Royal Victoria Infirmary (RVI) and the operating theatres at the Freeman Hospital, Tyvek protective suits to Bedlingtonshire Medical Group for carers making essential care home visits; protective glasses and Tyrek protective suits to North Tyneside General Hospital, in addition to bottles of alcohol based hand sanitiser and protective glasses to Railway Medical Practice in Blyth.

In addition, MSD donated a Portacount face-fit testing respirator to the Northumbria Specialist Emergency Care Hospital in Cramlington which will help to ensure accurate fitting of masks for frontline NHS employees and we have also enabled a volunteer to help operate the equipment which will help to free up other critical NHS care workers.

Keeping hands clean in Ireland:

Our Irish colleagues in Ballydine donated 80 litres of bulk isopropyl alcohol, which was used to produce approximately 100 litres of sanitiser for general practitioner offices to use.

Donating Oxygen to a hospital in Limerick City, Ireland:

Our colleagues at MSD Brinny donated a 60,000 litre Oxygen tank which engineers removed from the site and transported to University College Hospital, Limerick.
---
How do we reach the media team at MSD in the UK?
---
Job code: GB-NON-05207 | Date of preparation: November 2021